C.S.I. G6300 Marine Diesel Engine (GA Fuel-Efficient Type), as the main propulsion engine in RoRo passenger ship (Fu Hai No.9), is for independent research and development production by C.S.I. Group. Recently Fu Hai No.9, which was built by Fujian shipyard for the Philippine Shipowner, completed the sea trial successfully and was delivered to the user, further enhancing the brand influence of C.S.I. Group in the Philippines Main Engine Market.
"Fu Hai No.9" RoRo passenger ship is a passenger and vehicle transport ship between Philippine inter-island. It has a total length of 72.54m, a width of 14.30m, a depth of 4.35m, a design draft of 3.00m, a displacement of about 2000t, 2 engines and 2 propellers, and can carry up to 20 40ton vehicles and 385 passengers. The delivery of the ship has effectively shortened the passing time between Philippine inter-island and provided convenient transportation services for local people.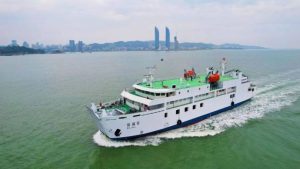 In recent years, C.S.I. Group always adheres to take "Green, Energy Efficiency, Carbon Reduction" as the development ethos, and always adheres to the development of its own brand, increasing scientific and technological innovation, optimizing, and upgrading the traditional main models. C.S.I. G6300 Marine Diesel Engine (GA Fuel-Efficient Type) is widely used as the main propulsion power of ships. Its strong power, economical efficiency and reliability, low-carbon and environmentally friendly help C.S.I. Group further to consummate the overseas market layout, and boost the development of shipping, transportation, and energy undertakings in countries and regions along "the Belt and Road".