In the past few days, "Wang Da 5555" 130 Type Bulk Carrier, which selected DF210EZC Dual Electronically Controlled Dual Fuel Engine as the main propulsion engine independently developed by C.S.I. Group, has successfully finished the trial in Fuling, Chongqing, China. This ship is a standard-type lockage transport vessel for the Changjiang River, which is mainly promoted by the Ministry of Transport of the People's Republic of China (MOT), with a length of 130m, a molded breadth of 16.26m, a molded depth of 7.8m, 11500 DWT, two-engine prop rotation, single engine power 1103 kW, almost ZERO emission. It marks the promotion and application of C.S.I. Group's dual-fuel engine in the Changjiang River Shipping, has great significance to the ecological protection and green shipping development of the Changjiang River Economic Belt.
DF210EZC type dual electronically controlled dual-fuel engine makes a technical innovation based on N210 series diesel engine by C.S.I. Group's scientific research team, adopts the advanced oil-gas dual electronically controlled technology in China and the injection is precisely calculated and controlled by ECU. After 2500 hours of endurance test and certification, it has successfully obtained the type approval of China Classification Society (CCS) and the authorization certificate of National Standard Stage II emission. This product has the characteristics of strong power, safety and reliability, economic and fuel-saving, green and environmental protection. It is the best power choice for new green vessels in Changjiang River, and can also be widely used in LNG carriers, fishing vessels, passenger and cargo ships, engineering vessels, natural gas drilling platforms and land-based power plants.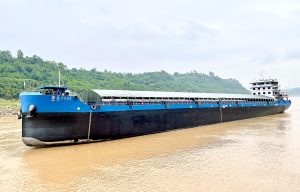 "Clear waters and green mountains are as good as mountains of gold and silver", C.S.I. Group has always adhered to the ethos of green and low-carbon development, the reinforcement of the research and development of low-carbon technology products, and the optimization and upgrading of existing products, promoting the "Changjiang River Gasification", and continuously contributing to the scientific, green and high-quality development of shipping in Changjiang River Economic Belt.