On July 10, the delegation of Prof. Gao Xiang, an Academician of the Chinese Academy of Engineering and Dean of the College of Energy Engineering of Zhejiang University visited C.S.I. Group, and Mr. Wu Jie, the Secretary of the CPC Committee and General Manager of C.S.I. Group and other company leaders participated in the meeting.
In the beginning, general manager Mr. Wu Jie introduced the development of C.S.I. Group, scientific and technological innovation in products, and other aspects, expressed his gratitude to the College of Energy Engineering of Zhejiang University for its continuous support and assistance to C.S.I. Group, hoping that the two parties can carry out more in-depth communication and cooperation in scientific research cooperation, human resources development, and platform construction, so as to accelerate the conversion of scientific research achievements of Zhejiang University and promote the innovative development of C.S.I. Group.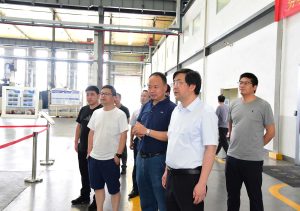 Academician Gao Xiang's team visited the precision machine division and engine assembly workshop in C.S.I. Group. And Academician Gao Xiang said that the ship is one of the important means of transportation, and vigorously developing green ship power is an important part of achieving the national double carbon goal. C.S.I. Group, as a well-known Chinese ship power manufacturer with an independent brand, has been committed to the development and industrialization of low-carbon and zero-carbon fuel power in recent years, making due contributions to the green development of ship power and carbon reduction.
General manager Wu Jie and academician Gao Xiang communicated about the development direction of marine industrial technology, and both sides reached a cooperation intention on building a "dual carbon" power platform, hoping to combine the advantages of Zhejiang University and C.S.I. Group, cooperated with upstream and downstream of the industrial chain, and collaborate with the Bai Ma Lake Laboratory to further promote cooperation in marine equipment power, integrated energy utilization system, joint laboratory construction, and strong alliances, so as to effectively promote the development and application of green ship power, and make greater contributions to the early realization of the national dual-carbon goal.