On July 27, Mrs. Shi Yan, Vice Chairman of Industry and Information Technology Industry's Labor Union of Ningbo Federation of Labor Unions, and Secondary Consultant, Mr. Wang Yuming, went to the Precision Machinery Division and Engine Assembly Workshop of C.S.I. Group for a high-temperature condolence activity. The delegation of Vice Chairman Shi was accompanied by Mr. Zhou Feng, Chairman of the Labor Union of C.S.I. Group, braved the heat of the summer and came to the front line in person, personally delivering drinks and sunstroke preventive articles for summer to workers, constantly and repeatedly warning workers to pay attention to safety in the hot weather, while expressing deep concern from the Municipal Federation of the Labor Union.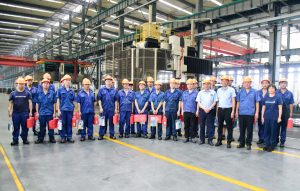 On July 20, the Labor Union of C.S.I. Group also organized an activity of "Bringing Coolness" condolences, to bring cool to the front line and show loving care for workers. The main administrative leaders and the leaders of the labor union of C.S.I. Group walked into the production workshop and grass-roots level positions, visiting and expressing condolences to the employees who were still fighting in the front line in the heat, to send them refreshing gift bags and cooled drinks.
Bringing coolness in the hot summer, the utmost solicitude into the heart. Though the hot-temperature weather for several days, the sun blazing like a ball of fire, and the unbearably hot summer, the employees held fast to their own positions and worked hard to ensure the smooth running of production tasks. This "Bringing Coolness" condolence activity not only sent coolness and solicitude, but also greatly inspired the enthusiasm of the front-line employees.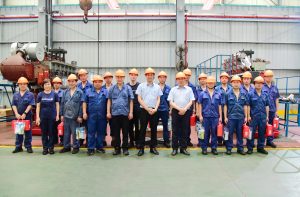 Snow the utmost solicitude, make it cool and refreshing in hot summer. For doing well heatstroke prevention and cooling measure, the Labor Union of C.S.I. Group has made the plan for the activities of the "Bringing Coolness" series in the summer as early as May, and carried out them as planned. In mid-June, beverages such as mineral water, cola, sprite, and iced black tea were distributed to the employees in the staff dining hall, and the supply sites of iced mung bean soup were set up in each workshop for the staff to drink in the afternoon in the heat of the day. The labor union has also purchased a number of heatstroke prevention medicines such as Huoxiangzhengqi liquid and Huoxiangzhengqi pills for allocation to sub-labor unions.