On August 31, the 8th Member Congress of the Red Cross Society of Zhejiang Province was held in Hangzhou, Zhejiang. Mr. Yuan Jiajun, Secretary of the CPC's Committee of Zhejiang Province and Director of the Standing Committee of the Provincial People's Congress, attended the opening ceremony and made a speech. Mr. Wang Ke, Secretary of the Leading CPC Members' Group and Executive Vice President of the Chinese Red Cross Society, delivered a speech at the opening ceremony. Mr. Huang Jianfa, Mr. Wang Cheng, Mr. Chen Yijun, Mr. Li Weining, Mr. Chai Xiujun, Mr. Cheng Yuechong, and other provincial leaders attended the conference. The advanced collectives and individuals who have made outstanding contributions to the Red Cross Society of Zhejiang Province, were commended solemnly. C.S.I. Group won the "Advanced Collective for Outstanding Contribution of the Zhejiang Provincial Red Cross Society".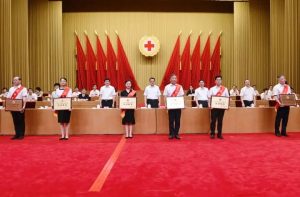 For a long period of time, while ensuring its own sustainable and steady growth, C.S.I. Group never forgets to repay society, fulfills its social responsibilities, and has the courage to meet difficulties. In particular, when the outbreak of COVID-19 came suddenly, C.S.I. Group immediately realized that "Materials for Epidemic Prevention in Extraordinary Times are more Important than Anything Else", to leverage the respective strengths of C.S.I. Group in abroad, tried the best to purchase the epidemic prevention materials such as PROTECTIVE CLOTHES, N95 MASK in Japan, Dubai, and other places, and had donated several million RMB of anti-epidemic materials to the Red Cross Society of Ningbo City and Jiangbei District, which strongly supported Ningbo City and Jiangbei District to fight with COVID-19.
Through the years, C.S.I. Group has always contributed money and goods to people in the stricken area and to support the reconstruction of the stricken area. C.S.I. Group is the leading financier of charitable funds to help poor families and people, who need medical aids and education opportunities, and provides scholarships and awards to schools and vocational colleges for years. C.S.I. Group organizes the members of CPC, leaders, and staff to participate in an activity of "Donation in Charity Day", in contributions of Love, to send support to people who are in need, and to participate in volunteer activities. C.S.I. Group has been successively awarded many honorary titles such as the "Charitable Love Award for Donation of Disaster-Relief", "Advanced Enterprise of Charity in Ningbo", "A Model Philanthropist in Jiangbei District", and "Anti-Epidemic Pioneer Enterprise in Ningbo", etc.