From September 7th to 8th, 2022, C.S.I. Group held New Product Release Press Conference of the high-pressure high-power common rail 7300 Ps NL8340CR marine engine in Ningbo Yuanzhou Hotel. In consideration of the COVID-19 situation of the preventive and control measures, C.S.I. Group just invited part of the distributors and shipowners' representatives, from Jiangsu Province, Zhejiang Province, and Fujian Province, and the relevant responsible person of Government Departments, Shipbuilding Industry Associations, and Ship Design Institutes, more than 120 people in all to attend the conference, and jointly witnessed the successful starting and running of the CSI Power(Ningdong) marine medium-speed high-power common rail diesel engine of Chinese own brand on the test bench in the assembly workshop.
The cultivation in midsummer will surely bring the joy of fruitful autumn. At the press conference, Mr. Wu Jie, Secretary of CPC's committee and General Manager of C.S.I. Group, Mr. Chen Xiongfei, Deputy General Manager of C.S.I. Group, Mr. Lou Hua, General Manager of C.S.I. Power, Dr. Wang Lei, General Manager of C.S.I. Trading, extended their sincere welcome and heartfelt gratitude to all the guests, hoping to introduce the latest research achievements of C.S.I. Group and new CSI Power (Ningdong) products to old and new friends through the press conference, and believed that we should strengthen mutual communication, enhance mutual understanding, deeply cooperate and develop together. The representatives of shipowners and customers, the head of the Zhejiang Branch of CCS, and other leaders expressed their full appreciation for the development and progress of C.S.I. Group in recent years in their speeches, they generally believed that the CSI Power (Ningdong) engines have the characteristics of safe and reliable comprehensive performance, strong power, less trouble, fuel-efficient, and a good market reputation in the shipping industry.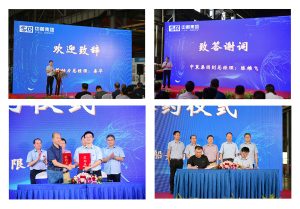 The high-pressure common rail high-power NL8340CR engine, with over 910 Ps/cylinder and a new high-efficiency high-pressure turbocharger, adopts electronically controlled high-pressure common rail technology, to adjust the combustion injection flexibly. Compared with the traditional technology, the technology of electronically controlled high-pressure common rail can reach lower fuel consumption, and lower emission, control the engine accurately at different speeds and operating conditions and can be customized. The successful development of the electronically controlled high-pressure common rail NL8340CR engine breaks the foreign monopoly in this technical field, realizing the import substitution, then opens a new chapter in the commercial application of the high-power high-pressure common rail system with China's own intellectual property.

In recent years, C.S.I. Group always adheres to the business philosophy of "Leading Innovation, Talent-Oriented", relying on the national post-doctoral workstation, provincial key enterprise research institute and other scientific and research platforms, is committed to the design and development of ICE with green, low-carbon, zero-carbon fuel, and has already successfully brought gas engines, dual electronically controlled and dual-fuel engines, high-pressure and common rail engines on the market, promoting the transformation, upgrading and innovative development of China's marine low-carbon and zero-carbon engines, to provide CSI Power (Ningdong) products.