On October 29, C.S.I. Group held the 2022 integrative competence improvement training course for managerial cadres in a multi-media hall. Mr. Wu Jie, Secretary of the CPC's Committee and General Manager of C.S.I. Group attended and delivered a speech. More than 130 C.S.I. Group's main managerial cadres attended a lecture on ≪Innovative Marketing and Corporate Culture Construction≫ by professor Zhu Meiyan of Ningbo University of Technology.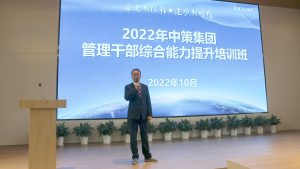 General manager Mr. Wu Jie pointed out in his speech that amid current international volatility and intricate macro-economy, there are many uncertain factors. According to the annual cadre training plan, this training course for managerial cadres is held to improve the integrative competence of cadres, strengthen the theoretical basis of cadres, and improve the combat power of cadres. General manager Mr. Wu emphasized that cadres are the key factors to meet new challenges and seize new opportunities in the new era, and are the core key to the enterprise's development, and hoped that every cadre will strengthen their learning and training, broaden their horizons and soul, continuously improve themselves, and make new contributions to the sustainable and stable development of C.S.I. Group and write a new chapter.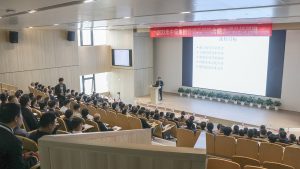 Innovation is the primary driving force and qualified personnel is the primary resource. C.S.I. Group always adheres to the ethos of "Take Man as the Foundation, Take Qualified Personnel as the Essential", carrying out the learning and training in multiple ways and various forms, and strengthening the qualified personnel training and the cadre team building. This training course combines the learning of the spirit of the CPC's 20th National Congress, and will further offer management courses such as ≪Macroeconomic Theory and Current Economic Situation≫, ≪Microeconomic Theory and Economic Thinking≫, cadre leadership, team management, official document writing, expression ability, and so on, which will further help and encourage managerial cadres at all levels to solid theoretical basis, enrich humanistic knowledge, improve integrative competence, and make greater contributions to the production, operation and high-quality development of C.S.I. Group!