The 15th SHIPTEC CHINA was held on 09 – 11 November 2022 at Dalian World Expo Center, Dalian, China. Leading shipping companies such as China State Shipbuilding Corporation Limited (CSSC), COSCO Shipping Heavy Industry Co., Ltd. (CHI) organized delegations to participate in the exhibition, and C.S.I. Group brought its latest products and technologies to the exhibition.

At the exhibition, C.S.I. Group showed several new products such as NL340CR series electronically controlled high-pressure common rail diesel engine, NL300 series diesel engine, DF210/DF230 series electronically controlled dual-fuel engine, and pure gas engine, which attracted widespread attention. Among them, NL300 series diesel engine with a power of more than 5400 ps, meets existing China's emission regulations without an exhaust treatment system. NL340CR high-pressure common-rail high-power diesel engine coincides with the theme of the exhibition "Zero-Carbon Technology, Intellectualized & Digital Integration", and adopts the electronically controlled high-pressure common-rail technology to achieve accurate control of the engine at different speeds and under different working conditions, which can achieve lower fuel consumption and emissions, has broken down the foreign technological monopoly in this technology and opened a new chapter in the commercial application of high-power high-pressure common-rail system with China's independent intellectual property rights (IIPR).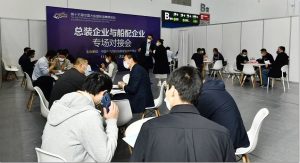 During the exhibition, visitors expressed their recognition of the high-quality products of CSI Power (Ningdong) in recent years and their admiration for C.S.I. Group's scientific and technological research and development and team building. As the sole maritime exhibition in China in 2022 (lots of exhibitions have been postponed or canceled due to EPIDEMIC PREVENTION), about 30.000 people visited the 15th SHIPTEC CHINA, including 23.000 professional buyers, and more than 1.000 cooperative intentions were reached. C.S.I. Group also took the exhibition as an opportunity to participate in a number of technical exchanges and product docking activities, and strived to practice the ethos of Green Development, serve customers, enhance mutual exchanges, work and develop together.