To conscientiously learn, publicize and implement the guiding principles of the 20th National Congress of the Communist Party of China (CPC), guide the young people of C.S.I. Group to listen to the voice of the CPC and follow the CPC, embrace the new era, and forge ahead on a new journey with a high-spirited attitude, on the afternoon of December 01, Ningbo Industrial Investment Group Co., Ltd. held a subject oratorial contest of "To be full of Vigor, True Love Saved for the Motherland" in the Wuyi Square Theater. A speech of "Innovation is always on the road" was made by Feng Binjie, a young employee of C.S.I. Group, deeply interpreted the road of C.S.I. Group to the innovation and development, and won the second prize. In all 17 companies of Ningbo Industrial Investment Group (NBIIG) were organized to participate in the propaganda campaign.
Xi Jinping, general secretary of the CPC Central Committee, concluded in the report of the 20th CPC National Congress: "We must regard science and technology as our primary productive force, talent as our primary resource, and innovation as our primary driver of growth……"  A century-long journey of C.S.I. Group in the CPC exercises leadership, proprietary marine medium-speed engine brand and innovation are the foundation and resource of the development of C.S.I. Group all the time. C.S.I. Group has successively won more than 20 scientific and technological awards above the municipal level, among which the second prize of the National Science and Technology Progress Awards is the highest praise for the China proprietary band and innovation of C.S.I. Group. Since the 18th CPC National Congress, general secretary Xi has made many important remarks on Innovation. C.S.I. Group responded to the call and adhered to the concept of the development of "Innovation as the primary driver of growth, talent as a primary resource", and successively established a provincial key enterprise research institute and national postdoctoral workstation, focusing on the construction of a general technology research institute and key laboratory, paid attention to qualified personnel and the development of innovation, to accelerate the research and development of new energy engines and the industrialization of innovative achievements.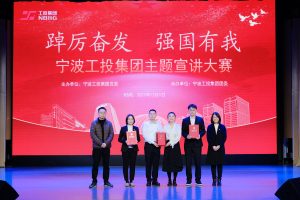 Youth of China in the Flourishing Ages, Wonderful Opportunities to Make a Good Career! The young worker of C.S.I. Group said that on the road of the Long March of the new era and advance toward the Second Centenary Goal, as a leading role of innovation in the new era, they should steadfastly follow the Party and its guidance, make concerted efforts to overcome challenges, embrace a good future with innovation and write an epic chapter of youth with a shared purpose.