On December 13, the opening ceremony of ULVAC (Ningbo) new plant in Jiangbei was held. Setsuo Iwashita, president and CEO of ULVAC Inc. (Japan), and Wu Jie, general manager and secretary of the CPC committee of C.S.I. Group, unveiled a plaque to mark the official opening of the ULVAC(Ningbo) new plant in Jiangbei.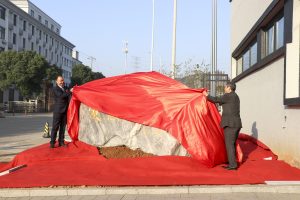 Tang Feifan, deputy secretary of the Ningbo municipal CPC committee and mayor of Ningbo, Hua Wei, executive vice mayor of Ningbo, Zhang Guofeng, secretary of the Jiangbei district CPC committee, and Xu Huixiang, district head of Jiangbei met respectively with the president Setsuo Iwashita and general manager Wu Jie, and expressed their warm congratulation to its opening. The leaders desired that ULVAC, Inc. should seize the market opportunity of the rapid development of the semiconductor industry and new energy industry in China, to guide the investment of Japan-funded enterprises in Ningbo, through promoting the introduction of advanced semiconductor technologies and industry from Japan, for the establishment of a quite scale Japan-founded industrial park and clusters with advanced technology. And President Iwashita and general manager Wu Jie also led a team to organize cooperation and exchanges with Yongjiang Laboratory, and Cui Ping, director of Yongjiang Laboratory, accompanied them through the whole tour.

In 2019, ULVAC Inc. pumped its investment into the construction of a new plant in Jiangbei, Ningbo. With the C.S.I. Group's backing, and the strong support from the staff across the Group and the construction unit, we overcame the impact of the COVID-19 pandemic and the rising building materials price, early to completion and move to the new location as planned and per budget without dissolving or disrupting the business organization. We believe the opening ceremony can be the launchpad for the further development of ULVAC (Ningbo) Co., Ltd.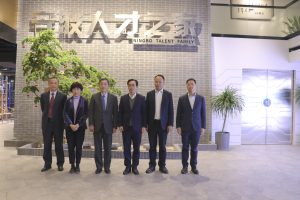 ULVAC Inc. industries and their applications cover energy, electron, new display technologies, semiconductor devices, environmental protection, pharmaceutical, and household appliance, etc., and has almost 30 years of a good relationship with C.S.I. Group. President Iwashita made the special trip to Ningbo, originally planned to attend the 8th Export Technology Forum of ULVAC Inc. Japan, and hold the opening ceremony of the new plant and the contract-signing ceremony of the training of highly-skilled personnel base. However, due to the COVID-19 pandemic, the opening ceremony was simplified, and a series of activities were postponed.