"Seizing the moment, embarking on a new journey!" On the eve of the Chinese New Year in the year of the rabbit, C.S.I. Group has made a significant milestone for two new products: 1. CSI NL8340CR high-pressure common rail medium-speed marine diesel engine with 7300hp, meeting IMO Tier III emission regulations with SCR system, has been successfully launched and delivered to the customer. It marks the successful development and industrialization of China's first set of independent brand marine medium-speed high-pressure common rail engines. 2. CSI's new generation NL8300 marine engine with a power of up to 5400hp was also successfully ignited, which can meet Chinese National Standard II emission regulations without the SCR exhaust after-treatment system.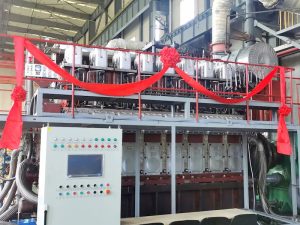 China, as a major shipbuilding nation, faces a formidable challenge in emissions reduction and decarbonization within the maritime industry, given the increasingly stringent energy and environmental policies and the backdrop of the "dual carbon" strategy. Energy efficiency and emission reduction in ship propulsion are the critical components of this effort. In recent years, C.S.I. Group has been closely aligned with the pace of the times, showing boldness in innovation and strategic foresight, and has made significant breakthroughs in ship propulsion high-pressure common rail technology, SCR exhaust after-treatment technology, electronically controlled dual-fuel engine technology, natural gas engine technology, etc. Successfully developed high-power medium-speed engines such as NL8340CR high-pressure common rail engine, new NL8300, and N210CR electronically controlled common rail engine, represent a proactive effort to contribute to the goals of energy efficiency, clean energy utilization, reaching peak carbon emissions and achieving carbon neutrality.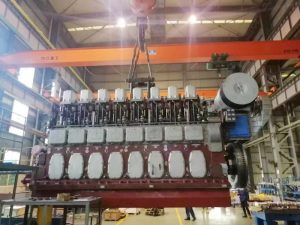 Innovation is the primary driving force, and qualified personnel is the key resource. Strong innovation leads to strong enterprises! For many years, C.S.I. Group has adhered to the development philosophy of "Innovation-oriented, Qualitied personnel-oriented". Relying on the provincial key enterprise research institute and national post-doctoral workstation, with a focus on building a common research institute and key laboratory, C.S.I. Group has pursued the philosophy of green, intelligent, open, and collaborative development. C.S.I. Group has accelerated the research and development of new energy engines, promoted the industrialization of innovative achievements, and successfully developed various new products such as gas engines, dual-fuel engines, high-press common rail engines, etc. Those efforts have earned multiple awards for CSI Power, including the National Science and Technology Progress Second Prize, Provincial Science and Technology Progress First Prize, etc. These awards provide strong technological support and a continuous source of innovation impetus for C.S.I. Group's sustainable and healthy development, contributing to high-quality economic growth.