On February 10th, the dissertation proposal review meeting of Dr. Wu Jun from C.S.I. Group's Post-doctoral Research Workstation was held in the conference room of ULVAC Ningbo. Professor Chen Zhenlei from Ningbo University and other members of the expert group, as well as Professor Wang Xudi from Hefei University of Technology and relevant leaders from Ningbo Municipal, Precinct Human Resources and Social Security Bureaus, attended the meeting. Wu Jie, Secretary of the CPC's committee and general manager of C.S.I. Group attended the meeting and made a concluding speech.
The review meeting was chaired by Dr. He Haibin, Executive Director of Ningbo C.S.I. Power & Machinery Research Institute. Dr. Wu Jun introduced the background of his postdoctoral project and made the opening report of the subject "Key Technology Development of Dry Screw Vacuum Pump". The subject takes the dry screw vacuum pump, the most ideal vacuum pump in the semiconductor field, as the research object. For providing a theoretical basis and technical support for the research and development of dry screw vacuum pumps, and effective solutions for the development of vacuum technology equipment in C.S.I. Group, Dr. Wu Jun will utilize techniques such as fluid mechanics and coupled simulation of fluid-solid-thermal Multiphysics fields to analyze the performance parameters of the screw rotor during operation. The expert group engaged in a thorough discussion regarding Dr. Wu Jun's research project, put forward valuable opinions and suggestions for follow-up research work, and unanimously agreed to pass Dr. Wu Jun's dissertation proposal review.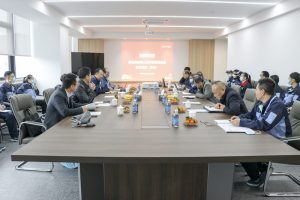 Over the years, C.S.I. Group has consistently adhered to the ideology that "competent personnel is the primary resource" and has made unremitting efforts in talented person recruitment, services, and the construction of research workstations. After the upgrading of C.S.I. Group's post-doctoral research workstation to national level, ULVAC was approved in 2022 as a provincial-level post-doctoral research workstation, marking a new stage in the construction of C.S.I. Group's post-doctoral research workstation. And it will definitely provide continuous innovation momentum and strong platform support for competent personnel recruitment and the research and development of CSI Power (Ning Dong) products.