CSI Ningdong N210G Series Marine Gas Generator Set (350 – 1000kW)
Parameters Table
Item
Unit
Technical Parameters
Engine Type
Four-stroke, water-cooled, in-line, turbocharged and intercooled, inlet multi-point injection, prechamber spark plug ignition
Cylinder Bore × Stroke
mm
210 × 300
No. Cylinder
6 / 8
Revolution
rpm
750 – 1000
Compression Ratio
12.5 : 1
Mean Effective Pressure
bar
14.1 – 17.4
Engine Thermal Efficiency
41.5%
SFGC
KJ/kW·h
9000 (at rated power)
SLOC
g/kW·h
≤0.6
Gas Supply Pressure
bar
5 – 8
Fuel Type
LNG or CNG
Direction of Rotation
Starboard engine: clockwise(aft. end)

Port engine: anticlockwise(aft. end)

Cooling System
Closed circulating water cooling
Alignment Method
Flexible coupling
Starting Mode
Compressed air motor
Minimum Height for Lifting Piston
mm
1650 (above crankshaft centerline)
NOX Emission Standard
IMO Tier III
Generator Rated Power
kW
350 – 1000
Power Factor
 0.8(lagging)

Voltage

Steady-State Voltage Regulating Rate
%
<±2.5
Transient Voltage Regulating Rate
%
-15~+20
Stabilization Time
s
<1.5
Voltage Fluctuation Rate
%
≤±1

Frequency

Steady State Frequency (rev.) Regulating Rate
%
<5(parallel)
Transient Frequency (rev.) Regulating Rate
%
≤±10
Stabilization Time
s
<5
Frequency Fluctuation Rate
%
≤±0.5
Model Portfolio Table
Model
Rated Power (kW)
Revolution (rpm)
Frequency (Hz)
Engine Model
Alternator Model
Dimensions (mm)
Net Weight (Kg)
CCFJ350J(Z)
350
720/750
50/60
N6210G
Siemens / CMXD
5830×1895×2965
19800
CCFJ400J(Z)
400
720/750
50/60
N6210G
5830×1895×2965
19800
CCFJ500J(Z)
500
720/750
50/60
N6210G
5950×1895×2965
20400
CCFJ520J(Z)
520
720/750
50/60
N6210G
5950×1895×2965
20400
CCFJ600J(Z)
600
720/750
50/60
N6210G
5980×1985×2965
21000
CCFJ720J(Z)
720
900/1000
50/60
N6210G
5980×1985×2965
20300
CCFJ800J(Z)
800
900/1000
50/60
N6210G
6040×1985×2965
20600
CCFJ1000J(Z)
1000
900/1000
50/60
N6210G
7280×2300×3270
26000
Notes: All engine rating data is based on ISO 3046/1.
Reference conditions: Ambient 45℃, Relative humidity 60%, Intercooler coolant inlet 32 ℃.
If test ambient conditions are not the same as the fiducially ambient conditions. The power shall be revised according to ISO3046-1: 2002.
Power: An overload of 10% is permitted for one hour every twelve hours of operation.
Characteristics:
Meet with: ISO8528, ISO3046, GB/T13032.
Marine medium speed engine driven, unrestricted service configured;IMO Tier III certified.
Brushless self-excited alternator with AVR, G3 electricity quality.
Application:Power plant set, Emergency automatic start power, Marine Auxiliary power.
As offer customized power plant solutions with multi-options fuels of diesel, LPFO/HFO, biofuel, natural gas, tire pyrolysis oil, etc.
Easy installation, high reliability, low noise, low operating cost, and environmentally friendly.
Outline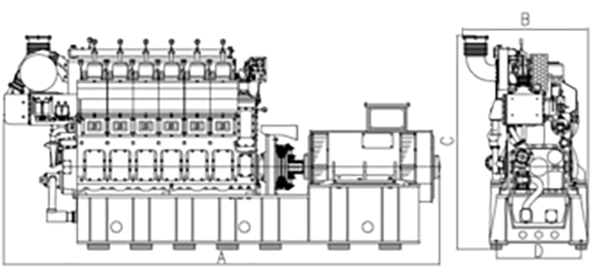 Remarks: Dimensions and weight are for reference only. For generator set model selection, please make communicate with relevant personnel. The delivery scope for each model engine shall be performed as per the corresponding technical files.